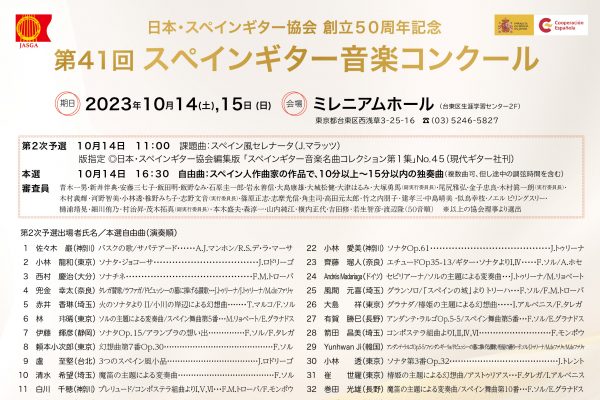 ROHM Music Foundation's 2023 grant project
The 41st Spain Guitar Music Competition
@Millennium Hall ,Tokyo Japan
Sponsored by the Japan Spain Guitar Association,
as a special project commemorating the 50th anniversary of its founding.
【venue】
Millennium Hall, Taito Ward Lifelong Learning Center
2F, 3-25-16 Nishiasakusa, Taito-ku, Tokyo, 111-8621, Japan
81-(0)3-5246-5827
It is a 15-minute walk from South Exit of "Uguisudani Station" on the JR Yamanote and Keihin Tohoku Lines
It is an 8-minute walk from Exit 1 of "Iriya Station" on the Tokyo Metro Hibiya Line
It is an 8-minute walk from Exit A2 of "Asakusa Station" on the Tsukuba Express
【Dates and tickets】
October 14, 2023 (Sat)
Second qualifying round 11:00~ Final round: 16:30~
Advance sale ¥3000 → https://t.livepocket.jp/e/14general
(¥3500 on the day)
October 15th 2023(Sun)
Grand Final 15:00~
Advance sale ¥5000 → https://t.livepocket.jp/e/15general
(¥5500 on the day)
【summary】
The first competition in the history of classical guitar in Japan, and the first in Asia, the groundbreaking project to feature the Aranjuez Concerto in collaboration with an orchestra will be held by the top three grand finalists selected in the final round the day before and a special orchestra organized to celebrate the association's 50th anniversary.
*Collaboration: Special chamber Orchestra for 50th anniversary celebration composed by members of leading orchestras in Japan or who are outstanding soloists without a conductor.
"we will do our best to support the finalists with the gorgeous ensemble that will only be available for one special day."
🔳Chairs of the Executive Committee: Ayane Shino, Shinichiro Kimura
Vice-Chairs: Takuma Motegi, Yuma Otsuka
🔳compulsory:
Second Qualifying Round Compulsory] Spanish Serenade (Maratz-Tarrega)
[Final Round Compulsory] None
[Final Round Free Choice Program] Solo piece composed by Spanish composer of more than 10 minutes and less than 15 minutes
[GrandFinal Round Compulsory] Concierto de Aranjuez by Joaquín Rodrigo (All movements)
🔳Judges:
14th:
Directors of the Japan-Spain Guitar Association
15th:
Special guest judge: Shinichi Fukuda (guitarist)
Guest Judges:
Wakana Hamada (Spanish culture researcher)
Yukine Uehara (pianist, president of the Japan-Spanish Piano Music Society)
Harumi Nakajima (Chairman/Guitarist) Tomomi Kohno (Acting Chairman/Guitarist)
Mitsunobu Shima (Vice- Chairman/Guitarist) Kozo Tate, Yasuaki Hiura, Masashi Shinohara,Keiichiro Ishihara, Takashi Watanabe Gentaro Takada and other association directors/guitarists (planned)
15th :Awards Ceremony & 50th Anniversary Celebration
:Announcement of Judging Results/Certificates, Trophies, Prize money , Prizes, Awards/Judging Comments etc.
🔳Special sponsor ID Holdings
🔳Sponsored by Ministry of Foreign Affairs / Embassy of Spain in Japan / Spanish Tourism Board/Instituto Cervantes Tokyo/ Taito Ward/Taito Ward Board of Education/Japan Junior Guitar Education Association
🔳Sponsor/Support J.G.A / Kono Guitar Manufacturing / Gendai Guitar Company / Arai Trading / France Savarez / Kurosawa Musical Instruments Store / Hakuju Bioscience Institute / Lladro Japan / S.I.E / Guitarraa /
Rokko-mann / Aura / Andante / Media Calm / Sylphide / Chronix / Shimamura Musical Instruments Marui Kinshicho Classic Store / Salot / Forest Hill / Yomiuri Nippon Television Cultural Center / Showa College of Music / Noboru Muraji Guitar Early Talent Education Class / Fernando / Kasahara Orthopedic Clinic / Foot balance research Place /DECO
🔳Diploma (certificate) by the Spanish Ambassador
🔳Certificate: by the Japan Spain Guitar Association
[1st to 3rd place] Grand finalists [4th to 10th places] Finalists (main prize) and [Japan-Spain Friendship Award] [Audience Award] [50th Anniversary Special Award] La Mayor Especial Award/ El Mayor Especial Award (Ages 65 and over) Madura Especial Award/Maduro Especial Award(Age 45 and over), Adolto Especial Award (Special Award for Adults) Estudiante Especial Award (Special Student Award)
Below are the following from the second round: [Madura Award/Maduro Award] (45 years old and older) [La Mayor Award/El Mayor Award (Senior Award)] (65 years old and above) [Adolto Estimuro Award (Award for Encouragement for Adults)] [Studiante Estimuro Award (Student Encouragement Award) [Futuro Brillante Award (Shining Future Award for the youngest participant)]
🔳Trophies
[1st place] Spanish Ambassador's Cup / Spanish Tourism Board Cup
[2nd place] Taito Ward Board of Education Cup
[3rd place] Japan Junior Guitar Education Association Cup
🔳Prize
[1st place] 280,000 yen (Japan-Spanish Guitar Association Award 70,000 yen / Kono Guitar Company Award 50,000 yen / France Savarez Company Award 50,000 yen / J.G.A Award 50,000 yen / Arai Trade Award 30,000 yen / Chronics Award 30,000 yen)
[2nd place] 50,000 yen (Japan-Spanish Guitar Association Award 20,000 yen / France Savares Award 20,000 yen)
[3rd place] 20,000 yen (Japan-Spanish Guitar Association Award 10,000 yen) yen / French Savares Prize 10,000 yen)
🔳Special Award
[1st Place] ID Award 200,000 yen (for seminar participation fee in Spain: Provided by ID Holdings)
[*] Japan-Spain Friendship Award 200,000 yen ( for seminar participation fee in Spain : Provided by ID Holdings)
[*] S.I.E Award (Aranjuez guitar case carbon camouflage: 50th anniversary special gift)
🔳 Prizes
[1st place] Instituto Cervantes Tokyo Award: Gendai Guitar Award (published value of 30,000 yen) / Lladró Japan Award / French Savarez Award (12 strings) / Andante Award (Andante concert guest appearance)
[2nd Place] Kurosawa Music Store Award (Juan Hernández 250,000 yen guitar with semi-hard case) / French Savares Award (9 sets of Savares Strings)
[3rd Place] Roccoman Award (Super Light Guitar Case) / France Savares Award (6 sets of Savares strings)
[4th place] Gendai Guitar Award (published value of 10,000 yen)
[5th place] Gendai Guitar Award (published value of 5,000 yen)
[4th to 6th places] Gitalla Award (Music Stand)
[1st to 6th place] Sylphide Award (music set) / Muraji Noboru Projects Award (5 CD set)
[1st to 3rd place] Aura Grand Final Award (guitar related goods)
[4th to 10th place] Aura Award (guitar related goods)
[1st to 10th place] Media Calm Award (Labella strings) / Aura Award (guitar related goods)
[Participation Award] (All participants in the 2nd preliminary round) French Savarez Award (1 set of Savarez Strings) / S.I.E. Trade offer) Winner benefits: Concert sponsored by the Spanish Embassy (Japan-Spain Friendship Award, date to be determined)
🔳2nd round qualifying contestants (performance order)
1 Iwao Sasaki Kanagawa
2 Tatsukazu Kobayashi Tokyo
3 Keiji Nishimura Oita
4 Kabutokin Kota Nara
5 Karin Akai Saitama
6 Hayashi Yuki Tokyo
7 Teruhiko Ito Shizuoka
8 Yorimoto Kojiro Tokyo
9 Lu Zhijian Taipei
10 Shimizu Hope Saitama
11 Chiho Shirakawa Kanagawa
12 Hirokuni Watanabe Tochigi
13 Mitsue Mitsue Chiba
14 Takamasa Kimura Tokyo
15 Kusaka Rikyu Hyogo
16 Oshiyama Ichiro Tokyo
17 Hana Watanabe Tokyo
18 Tomoki Sone Chiba
19 Yukako Uranishi Tokyo
20 Masataka Kobayashi Fukushima
21 Ryuma Iwata Osaka
22 Manami Kobayashi Kanagawa
23 Ruto Saito Nara
24 Andres Madariaga Germany
25 Motoki Kazama Saitama
26 Sho Oshima Tokyo
27 Katsumi Ariga Nagano
28 Masami Yata Saitama
29 yunhwan Ji(윤환 지) South Korea
30 Toru Kobayashi Tokyo
31 Sera Choi Tokyo
32 Mitsuo Makita Nagano
33 Panopio Nicolo Hiroshima
34 Katsube Sakiko Hiroshima
35 Haruna Miyagawa Tokyo
36 Hiyama Masahiro Aomori
37 Momori Nishimura Tokyo
38 Hikaru Eguchi Tokyo
39 Shintaro Hayashi Tokyo
40 Toshio Kinoshita Kanagawa
41 Ausias Parejo Spain
🔳Contact for further information to
Japan Spain Guitar Association
info@spainguitar.jp